(805)751-6622 LG and GE Dryer repair Department in Ventura County : We service Following Cities in Ventura County: Ventura / Port Hueneme / Oxnard / Moorkpark / Camarillo / Simi Valley / Fillmore / Santa Paula:
We Repair Following Appliance in Ventura County:
(805)751-6622LG Dryer Repair Ventura County / LG Washer Repair Ventura County / LG Washer Repair Oxnard /LG Dryer Repair Camarillo / LG Dryer Repair Santa Paula we are your Local Ventura County Appliance Repair Solution we repair all major appliances , reasonable prices, Member of bbb A+ Rated, written estimate before we do any Repairs, Quality same day appliance repair and service we qualified to repair all major Appliances in Ventura County, Oxnard, Camarillo, Ojai, Fillmore, santa paula LG Dryer repair specialist
LG Appliance repair Experts of Ventura county oxnard ojai fillmore we do same day service, Dryer no heat? Washer no Spin? Refrigerator Not Cold enough? no problem LG Appliance Repair Experts of Granada Hills Factory Trained and Licensed by the State. We have a years of experience in Appliance Repair Industry, our factory trained technicians qualified to work on any of you LG Appliances. LG Washers very reliable brands, but thinks don't last forever, LG Washers most comment problem they might have is Code "LE" or Code 'LD" code LE usually means Rotor Sensor. LD means long drain, most comment problem drain pump looses the ability to work the right way and not working the way it suppose to. Another very popular problem any front load washer might have is a rubber boot around the door, it rips and boot needs to be replaced. LG Dryer have only couple problems , one of the most popular problems is when it spins it makes a loud noise it means that roller wheels needs to be replaced, service required, another problem that LG dryer brings is a thermal fuse, reset able thermal fuse recommendation to replace it , if you try to reset it it will trip again in the future, and it's not that easy to get to that reset able thermostat.
= LG Refrigerator Repair in Ventura
= LG Washer Repair in Camarillo
= LG Dryer Repair in Oxnard
= LG Dishwasher Repair in Moorpark
Lg Dryer Repair Thousand Oaks California
Whirlpool is a very reliable brand (805)751-6622 Refrigerator Don't get cold? don't worry Whirlpool Appliance repair experts of Pasadena is always here for your 7 days a week , from 7 am to pm . Our factory trained technicians will be able to help you on the spot, they carry 80% of all factory whirlpool parts in their vans, all our technicians have years of experience in Whirlpool Repair Oxnard California a lot of a lot of cunsumers chose Whirlpool for their daily routine like orange juice goes for a breakfast!
LG Dryer Repair experts of oxnard
- Whirlpool Washer Repair Experts of oxnard ( We fix all major problems - code F21 / SUD / F35 / No Drain / No Spin ) We fix em on the spot
- Whirlpool Dryer Repair in oxnard specialize in all whirlpool dryers , if your dryer don't spin' or don't heat don't worry we fix em !
Service call is only $45 | Free service call with authorized repair | Trained Technicians | 30 Days Warranty on Labor | 1 year warranty on parts
SAME DAY SERVICE/ REFRIGERATOR REPAIR / WASHER REPAIR /DRYER REPAIR /DISHWASHER REPAIR /AC REPAIR
refrigerator repair washer repair dryer
\refrigerator repair
washer repair
dryer repair
oven repair
stove repair
we fix em all
licensed insured

On time appliance repair experts
we dedicated to be on time and within your budget
One way appliance repair , it's the right way to fix your appliance
Pasadena Local Appliance Repair Experts , we fix all major appliances in Pasadena and all major brands like Sub-Zero, Thermador, Viking, Kenmore, Bosch, Kenmore , LG , GE , Maytag, Frigidare, Whirlpool we fix them all , we have affordable prices , One Way Appliance Repair Experts of Pasadena to the rescue , we are the leaders in Appliance Repair industry in Pasadena, California, we are the best on the west , We have a thousands satisfied customer in Pasadena. We only use Factory Authorized Parts! We provide same day service with quality results , we also stay behind our work and we provide customer with a written estimate before we do any repair, thirty day warranty on labor and one year warranty on parts we are licensed insured experienced professional Technicians in your area now!

Refrigerator Repair Pasadena ( LG | GE | Viking | Thermador | Sub-Zero | Whirlpool)
LG Dryer Repair in oxnard
Licensed | Insured
Affordable Appliance Repair Experts, we are always on time feel free call us anytime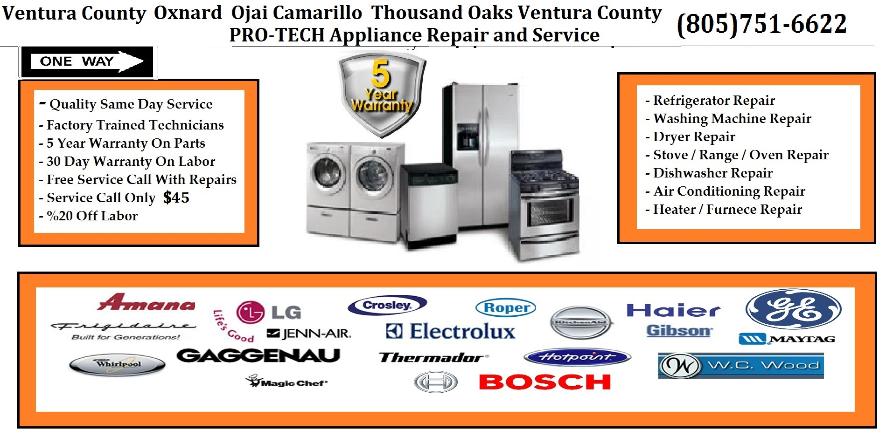 www.805ApplianceRepair.com
Copyrights: 2016-2020
We are local Appliance Repair Company www.805ApplianceRepair.com is not associated no affiliated, sponsored or authorized by © Appliance LOGOS ® is a registered trademark of the individual parent company.

(805)751-6622