GE and LG Refrigerator Repair Department we repair all domestic Ge Refrigerators including top and and bottom refrigerators, and side by side refrigerators! We only charge $45 to diagnose the problem, you only pay $45 if you decide not to do the repair, the service call will go towards the repair if you decide to do the repair in one month! Qualified Technician will diagnose your LG or GE Refrigerator Samsung the professional way we carry all Electrical tools to check computer boards or non factional parts , most comment problems with GE LG or Samsung it's a Defrost Thermostat, Hi-Limit Thermostat, Evaporator Fan Motor, Computer Board! We carry all welding equipment to repair the computer board to replace Relay on the board that's our qualifications our Engineers Licensed and Insured for your own protection! Our Local Moorpark Appliance Repair Technicians dedicated to be On-Time (3HR window Appointment) Same day Service; Moorpark Residents always trust our appliance repair company because we are the most reasonable appliance repair company in the Industry! We do not charge per hour we charge per appliance.
GE Refrigerator Repair Department always here to assist you!!! Monogram Refrigerator Repair Department in Moorpark, California when it comes down to fixing refrigerators our appliance repair team is always here to help you we repair refrigerators 24/7 affordable and Reliable appliance repair company in Moorpark,California. We repair all major appliances in Moorkpark, Samsung , GE LG Ventura county resident always trust us because we always on time and within your budget, when it come down to Repair LG or Samsung Dryer in Moorkpark we are your number one appliance repair source! call us today if you want to repair your appliances, LG Dryer repair the most comment problem when the LG Dryer makes loud noise and it does not heat, making loud noise Roller Assembly or Idler Pulley one of the most comment problems don't hesitate to call us today or tomorrow because we are always here for you 805-751-6622 LG Dryer Repair in Moorpark, California; Same day appliance repair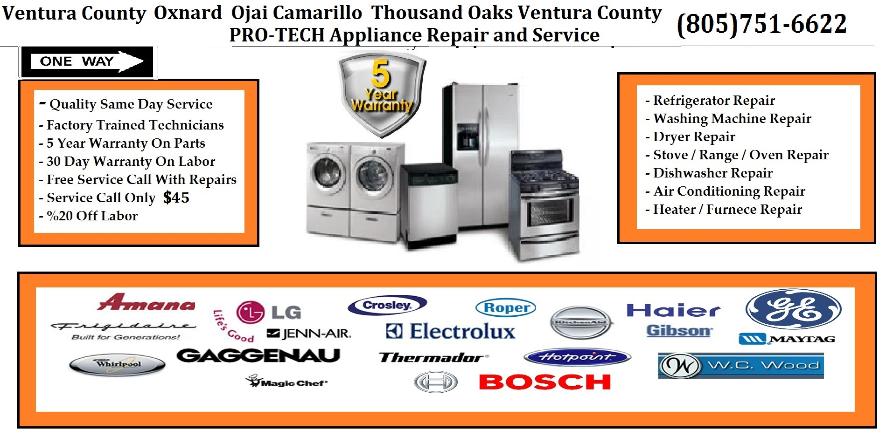 LG Appliance repair Experts of Calabasas (805)751-6622 we do same day service, Dryer no heat? Washer no Spin? Refrigerator Not Cold enough? no problem LG Appliance Repair Experts of Calabasas Factory Trained and Licensed by the State. We have a years of experience in Appliance Repair Industry, our factory trained technicians qualified to work on any of you LG Appliances. LG Washers very reliable brands, but thinks don't last forever, LG Washers most comment problem they might have is Code "LE" or Code 'LD" code LE usually means Rotor Sensor. LD means long drain, most comment problem drain pump looses the ability to work the right way and not working the way it suppose to. Another very popular problem any front load washer might have is a rubber boot around the door, it rips and boot needs to be replaced. LG Dryer have only couple problems , one of the most popular problems is when it spins it makes a loud noise it means that roller wheels needs to be replaced, service required, another problem that LG dryer brings is a thermal fuse, reset able thermal fuse recommendation to replace it , if you try to reset it it will trip again in the future, and it's not that easy to get to that reset able thermostat.
= LG Refrigerator Repair in Calabasas=
= LG Washer Repair in Calabasas=
= LG Dryer Repair in Calabasas=
= LG Dishwasher Repair in Granada Hills=